Jeff Bezos workout: discover how Amazon's founder transformed his body only by exercising and changing his eating habits.
Discover: Jeff Bezos workout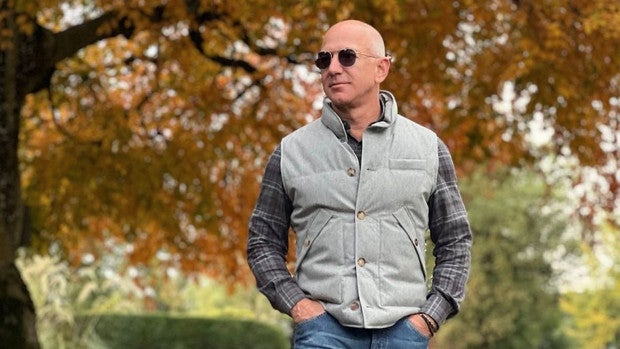 The figure of Jeff Bezos is usually related to business and entrepreneurship. Although he is not very assiduous to sharing his workouts on social networks like other celebrities. On some occasions, he does publish images in which he is seen running, riding horses, or playing golf. That makes it clear that in his leisure time physical activity, too.
It is enough to observe his sculpted figure to deduce where his results come from. Of course a careful diet and a routine of strength training in which hypertrophy plays a key role. His menu does not lack high doses of protein and control of daily calories. This is explained by personal trainer Alejandro Celdrán, who points out that:
"If you want to follow his example you have to be skillful when it comes to managing the calorie and macro budget each day, trying as far as possible to plan meals as much as possible and find a way to eat the minimum daily intake of fruits and vegetables (5 pieces) and also the protein, between 1.5 and 2 grams of protein per kilo of weight approximately".
In addition, for those who want to refine the figure as well as tone it, he recommends the following:
"First of all, I would start with a body recomposition, that is, gaining a little muscle mass and losing fat at the same time. To do this I would distribute the work into four days a week like this: one would be dedicated to push-ups (to work pecs and upper body), verticals, and bench presses. Another day of back traction with horizontal rowing, vertical rowing, and other exercises for that area. On the third day, I would do leg and include quad work, knee and back dominant, and hip dominants with dead weight or glute bridge. In addition, on the first and third days, we would work the middle zone with core exercises where I would pay special attention to dynamic planks. Finally, on the fourth day, I would leave it 'free' to review with a full-body routine. On this day I would use accessories such as kettlebells or barbells and I would include a HIIT part," he says.
On the other hand, trainer Gemi Osorio provides another training idea. It is regarding the routine to follow to achieve a marked core like that of the founder of Amazon. He adds that the core is easier to define than other areas. For example, the legs, as long as the whole abdominal area is worked with different exercises. In his case, he recommends the ventral plank in all its variations. The crunch, the climber, or the criss-cross. All of them are easy to perform and quite effective. This in combination with calisthenics and static isometric exercises with a duration of 10 or 15 seconds each. "All these exercises are quite effective. However, what is really going to be key is to accompany it with cardio work. Of course you need to be consistent with the workouts at least 3 times a week".
Both also emphasize that their figure is the result of months of work and that achieving quick results is practically impossible, and that it is important to respect the rest periods so that the muscles can recover and thus avoid injuries, as well as respecting the recommended hours of sleep per day.