Nowadays, consumer service employees play an important role in terms of customer service of any brand, or commercial establishment, which is why in this article we will be talking about the best paying jobs in consumer service.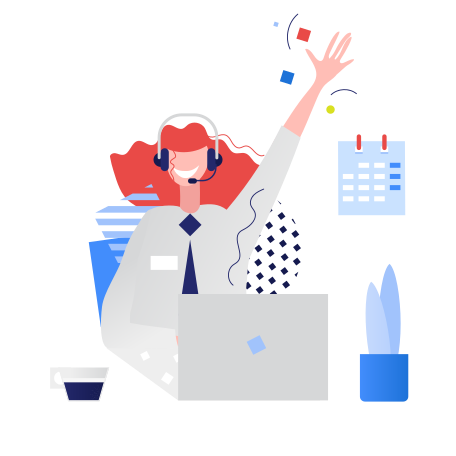 Consumer service is all the advice and assistance that the company provides to its consumers during their interactions with the brand. The objective is to increase consumer satisfaction by responding to their requests, often the consumer will have questions and queries and customer service will take care of answering them.
Consumer service is responsible for helping the customer to better use the product, solve problems and ensure a good shopping experience. Although consumer service usually appears after the purchase, it can also be found before and even during the purchase, for example with a salesperson answering a customer's questions about an item of clothing.
For example, if you receive a damaged package, you will call or contact the company that delivered it to you and their customer service department will address your issue to ensure you have a positive experience interacting with the brand.
Top 10 best paying jobs in customer service
1. Technical Support Engineer
Average Annual Salary: $81,000
Most technical support engineers have at least a bachelor's degree in computer sciences, robotics, or another technology-related field. They need to know the specific ins and outs of the programs they support as well as many other pieces of hardware and software.
Most, but not all, technical support engineers work remotely and talk individuals through the task at hand. This requires excellent interpersonal communication skills as well as a great deal of patience.
2. Account Manager
Average Annual Salary: $72,000
An account manager oversees everyone who is working on an account to make sure they're all doing their share to achieve the desired outcomes. They need to be able to communicate with their teams to explain what needs to happen and the timeframe.
Then they have to conceptualize how all of those pieces will come together and make sure the scheduling is on target. Finally, their relationships with customers need to be solid because customers put a lot of faith in their account managers.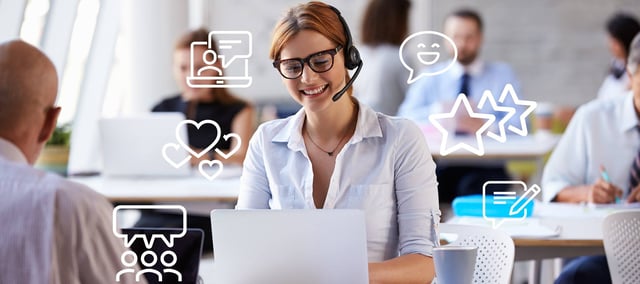 3. Flight Attendant
Salary: Between $64,446 – $99,544 per year
If you believe that a flight attendant's job is just to serve drinks and refreshments to passengers on-board a flight, you couldn't be more wrong. While flight attendants are responsible for the comfort of passengers, there's certainly more to their job description that you should know.
4. Front Desk Manager
Salary: $67,866 per year
Front desk managers are usually employed at large and mid-sized hotels (or other well-established businesses in the hospitality industry) as supervisors. They are experienced professionals who oversee reception and front desk operations, train staff and carry out important administrative duties.
5. Service Advisor
Salary: $59,500 per year ($22.15/hour)
Service advisors are the customer service specialists you find at car dealerships and maintenance workshops. Service advisors typically act as an intermediary between customers and car technicians. They recognize the issues customers are facing related to their vehicle and convey those issues to an assigned technician.
They also offer comprehensive advice on repair timeline, maintenance, insurance, and other important car-related issues.
6. Customer Service Manager
Average Annual Salary: $51,000
A Customer Service Manager oversees the customer's experience by watching how the customer service representatives handle their experiences. They also look at the big picture and manage call volume, the number of representatives available, the types of problems customers are having, and how to resolve problems.
Sometimes they're called in to help on a call or to deal with a customer directly, but they're often working behind the scenes.
7. Receptionist
Salary: $45,717 per year ($15.5/hour)
Receptionists perform a wide variety of administrative support tasks and front desk operations within a company or organization. It includes responding to visitors' inquiries or guiding them to their appropriate department based on their needs, answering phone calls, and receiving and distributing emails.
A receptionist is usually the first person a client or business contact meets at a company. Depending on the type and size of the company or organization, some receptionists may also work as a cashier and carry out bookkeeping duties.
8. Personal Concierge
Average Annual Salary: $35,000
A personal concierge can start out working in this capacity or learn the business of working in a hotel. Personal concierges often work for celebrities or extremely wealthy people, or families who are too busy to handle many of their daily tasks. They can run errands and schedule maintenance for vehicles, homes, airplanes, and any other items that need care.
They'll keep track of calendars and arrange for transportation – basically, a personal concierge makes sure that everything gets done and that the person or people they work for are where they're supposed to be when they're supposed to be there.
9. Call Center Representative
Salary: $34,519 per year ($16.9/hour)
As the name suggests, a call center representative makes and receives calls from customers regarding product inquiries, complaints, and other issues. Call center representatives use their training and knowledge about the company's policies to guide customers and troubleshoot their problems.
These professionals handle a large volume of customer calls on a daily basis listening to their issues and trying to address them as soon as possible. 
10. Bank Teller
Salary: $30,639 per year
Banks and other financial institutions play a critical role in our lives. We rely on banks for various financial services, from basic transactions to mortgage and loan services. This is where bank tellers come into action.
The average salary for bank tellers in the United States is about $30,600 a year. However, the highest earners in this profession can have an annual salary of more than $33,000.